Serving Marysville, WA And Surrounding Areas
Bathroom Remodel in Marysville, WA
Your bathrooms play an important role in your day to day comfort. So if your bathrooms are outdated or simply not big enough, you need a bathroom design team with the tools and skills to revamp them as necessary. That's where we come in. As a bathroom remodeling company in Marysville, WA, Steve's Home Services, LLC can design the ideal bathroom setup to suit your needs. Whether you're looking to update a single bathroom or multiple bathrooms, we're ready to take on your project and complete it in a manner that exceeds your expectations.
At Steve's Home Services, LLC, we're ready to help you make your bathrooms more functional and aesthetically pleasing. When you hire our bathroom design team, our talented, experienced contractors will work to evaluate your current space and come up with creative ways to maximize it, all the while sticking to your established budget.
For more information about our bathroom design services or to schedule an on-site estimate, call us today.
Bathroom Remodel - Steve's Home Services, LLC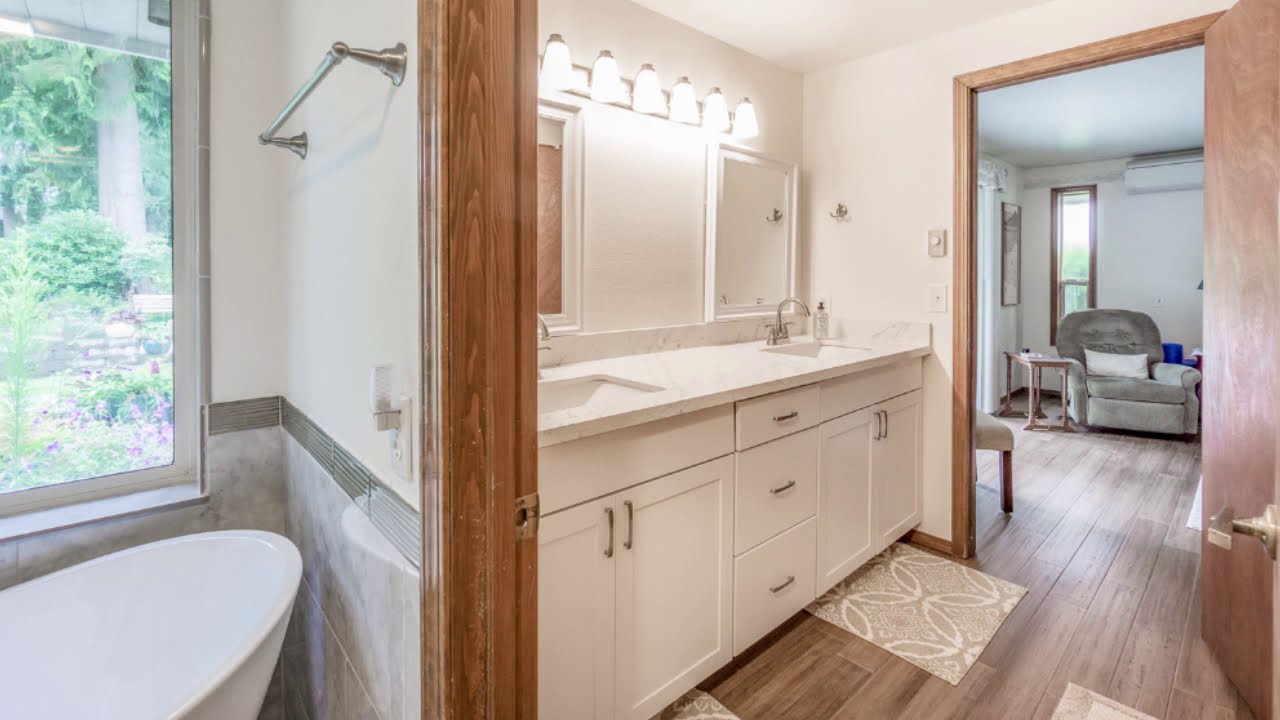 Last November we hired Steve and his crew from Steve's Home services to do a complete remodel of our main living areas of our home. This included the bathroom, 2nd bathroom, kitchen, family and living room. They installed new wood floors in a lot of areas, tile floor in bathroom, tile inlay in entry, and a pony wall by front entry. Two main walls were removed between the family and living areas. A full kitchen tear out and everything new was installed including the cabinets. They are a wonderful personable group of hard working contractors to work with. Their work is top quality! We had them in our home for about 5 weeks. We didn't have to move out because they cleaned up everyday and protected our furniture with coverings. We will hire them again for phase 2 to remodel our master bathroom.

They stand behind all the work and offer the best pricing. Give them a call to experience true customer care and appreciation

Great service, quality work, friendly staff, I recommend this company to anyone who has home improvement projects!! Good quality work and affordable! This company really does anything and everything you need done around your house, there is nothing they can't do!

- Joelle Litch. 10/5/2018

Hired Steve's home services to enclose and finish my back deck. The work was excellent. The people were courteous and professional. They kept me informed and were always on schedule. I would definitely use Steve's again.

This is a fair contractor and one with good intentions. He also guarantees his work!

Steve (owner) & Ryan of Steve's Home Services came to my rental home to tackle a list of 11 items I'd provided. They did everything from: remounting a bathtub splash guard, snaking a slow draining sink, troubleshooting 2 non-working lights & outlet that turned out to be wired backwards & required total rewiring inside the wall, fixing a front gate, securing a loose metal handrail, to jacking up a dangerously sagging carport roof & resupporting with large sunken beams. These guys were AMAZING, and stayed well past dark to get the job finished. Great attitudes, hardworking, took the time to talk & listen to my concerns. I'm going to recommend them to my Mother (not to mention anyone else who needs work done)! Oh...and they said they do remodeling -- if only I owned my own home!

- Julie Sapadin. 7/29/2013

I hired Steve to do a small job in my downtown Seattle condo. He came today and did that one and two more. Very nice to have around. Efficient and great at what he does. He fixed an interior door that has been broken and bugging me for 5 years. I was ready to yank it and replace it with a curtain. I asked him to look at it and the next thing I knew, he'd fixed it! I'm starting now on my Steve list of all the other things that need done around here. Great find. If you need something fixed, call Steve. Really.

- Susan Dennis. 10/21/2011
BATHROOM REMODEL IN LYNNWOOD, WA
Remove or demolish bathroom fixtures.
Build new walls for the new shower area.
Change/add new plumbing and wiring.
Hang new drywall and prep walls for tile or paint.
Install new fixtures.
Install new tile on walls.
Lay down new floor tiles.
Install new shower and vanity and cabinets.
Finish hooking up the plumbing.